INTRODUCTION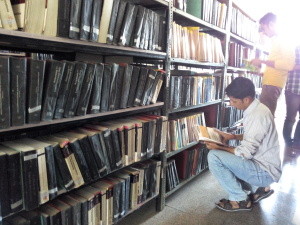 Welcome to Central Library at Ganga Group of Institutions, A well-stocked Library has been established in the heart of GGI campus in 1989 for the benefits of students and staff. The state-of-the-art Central Library is housed in a three-storey building. Library remains open on all working days from 9 A.M. to 5P.M. Books are issued / returned from 9 AM to 3 PM. Total staff members working in the library are nine.
LIBRARY SERVICES
Catalogue search: catalogue is arranged according to Dewey decimal classification. Each row of the racks has been labeled with the range of class numbers in the corresponding row.
CD-ROM Search:CD-ROMs are available on technical and non-technical subjects.
Internet Facility: This facility is available in all working hours.
Reprographic Service: Library provides Reprographic service to its users in the library. The advantage of this facility is that it minimizes the chances of tearing page from books.
Circulation Service: This is most popular service, which is concerned with Issue and Return of books and other reading materials. Library has computerized circulation System.
Reference Service: Journals, Magazines, Newspapers, Encyclopedias, Dictionaries, Handbooks, Reference Books, Textbooks etc. kept in the reference section. These can be referred to, inside the library only.
LANGUAGE LAB
ETNL based language laboratory has 31 seats and software for the teaching of all the facets of English and other foreign languages.